Parishioner Tuition Scholarship
The Parishioner Tuition Scholarship is available to any family with students grades K-8 who is donating time, talent and/or treasure to St. Barnabas School or Parish.
Apply for the Parishioner Tuition Scholarship
For the purposes of this scholarship, St. Barnabas Parish and School identifies those who practice stewardship in time, talent and treasure. From the generosity of all parishioners through the weekly offertory, each student grades K-8 in a family who applies and is accepted for the Parishioner Tuition Scholarship will receive $1,300 towards tuition at St. Barnabas School from the parish subsidy. There is no limit to the number of scholarships awarded. For families to qualify for the Parishioner Tuition Scholarship, we ask for your Time, Talent and/or Treasure: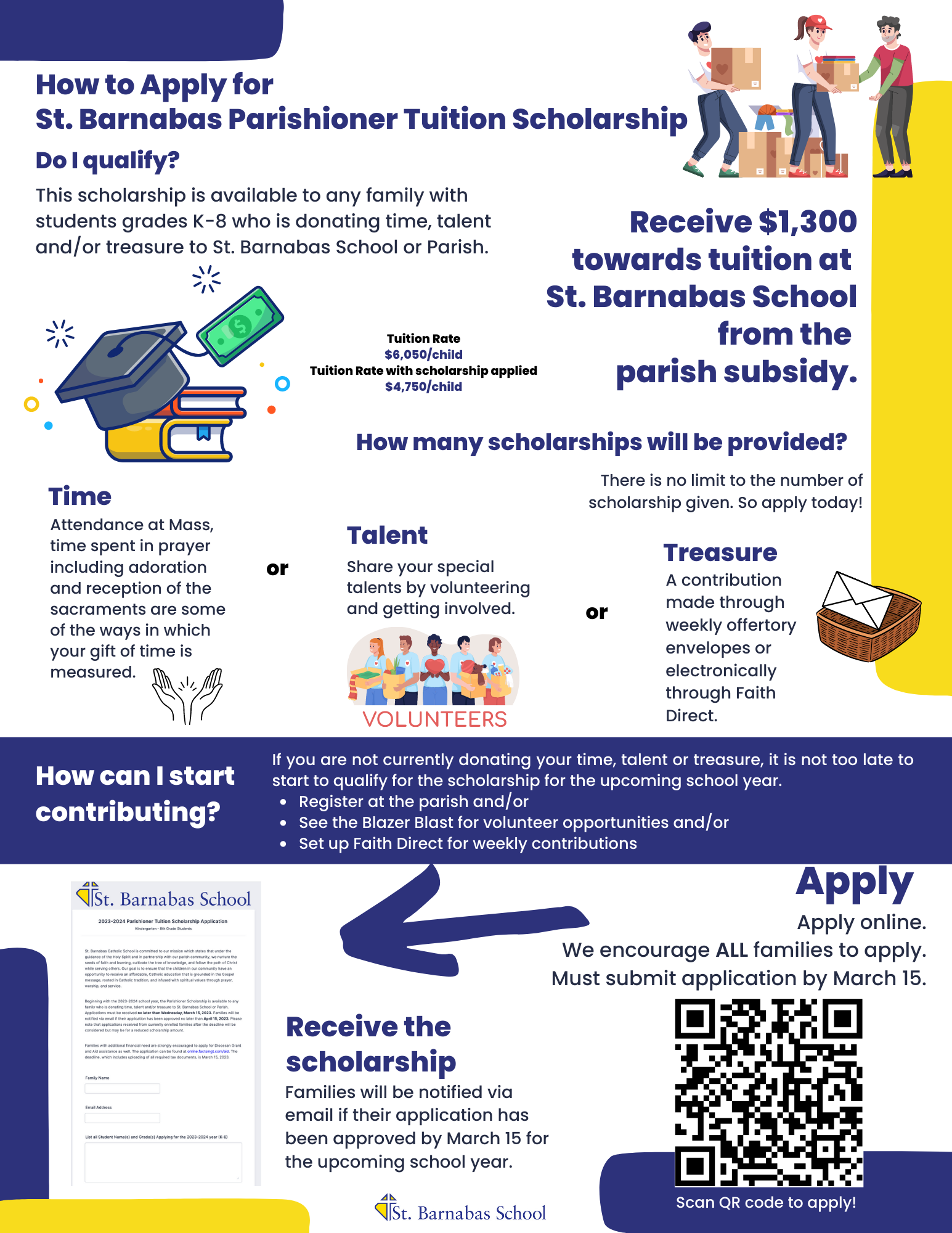 Time: For the purposes of this definition, time refers to time in prayer. Attendance at Mass, time spent in prayer including adoration and reception of the sacraments are some of the ways in which your gift of time is measured. If you aren't registered as a member of St. Barnabas Church you can click here to register.

Talent: Share your special talents by volunteering and getting involved. Studies show that parent attitudes and actions have a positive effect on their children's academic success. There are a number of ways to volunteer and share your talents, including: serving as a committee chair or member for a school event, fundraiser, PTU, SBAA, coaching a CYO team, helping in the school (library recess, classroom, etc.), participating in and/or attending school fundraisers, chaperoning, Eucharistic/Homebound ministry, Adoration Guardian, mass lector, altar server, musician/choir, mass greeter/usher.

Treasure: A contribution made through weekly offertory envelopes or electronically through Faith Direct is a show of faith and gratitude. Many employers sponsor matching gift programs and will match any charitable donation made by their employees. Check with your employer and your spouse's employer to find out if they sponsor matching gifts.
Timeline & Requirements
Important Dates:
March 15, 2024 - All scholarship materials for current families due for the 2024-2025 school year. The scholarship will be available beginning in January 2024.
Ongoing - Families new to St. Barnabas School may apply for the scholarship at any time.
Requirement and Rules:
Applicants must be entering grades K-8 in the Fall of 2024 or be a family new to St. Barnabas School enrolled at any point during the 2023-2024 school year.
Applicants must be currently enrolled students of St. Barnabas School.
Applicants must verify their gift of Time, Talent and/or Treasure as noted above.
Only one application form is required per family.
Funds awarded will be directly applied to FACTS and cannot be exchanged for a cash reward.